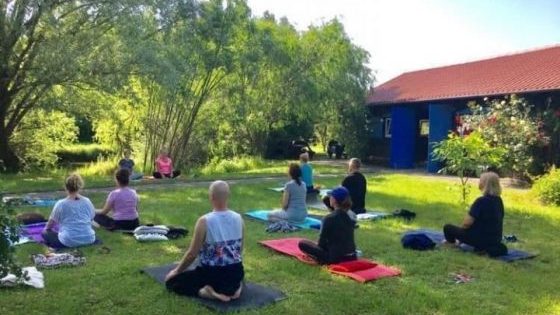 A GIFT FROM US TO YOU…. as a token of our appreciation 💜
Saturday, August 8, 2020,  11.00-12.00
Sopot, Park Północny (trawnik niedaleko baru na plaży Centrala Rybna)
THE AMERICAN ACADEMY https://theamericanacademy.pl/en/home/
along with KLINIKA Stresu, the center of MINDFULNESS http://www.klinikastresu.com.pl/
and Fundacja Rozwoju Mindfulness
are THRILLED to invite you to participate in a FREE Introduction to MINDFULNESS class in Sopot.
The class will be conducted in English by Ewa Kaian Kochanowska, a certified MINDFULNESS teacher.
Vocabulary you might want to review prior to the class 😉
mindfulness
mind full or mindful?? 🌞
to be open-minded
to relax
silence
sleeplessness
anxiety
well-being
wellness
to rest
to feel your body (feet, legs, buttocks, belly, back, shoulders, chest, heart, hands, arms, face, head….)
to feel your emotion
to recharge
to rejuvenate
awareness
to breath in – to breath out
inhale – exhale
burnout
to regulate your emotions
to better deal with negative situations
creativity
confidence
to better deal with stressors
to engage more positively with people
the ability to think more clearly
to clear your mind
WHAT TO BRING:
…Your own blanket/mat/or something else to sit on
…and good humor 😂
Come on and join us for a memorable, mindful Saturday morning!
HOW TO REGISTER: dana@theamericanacademy.pl
CHEERS!
Dana & Ewa